Bottomline Up Front
For those of you not interested in all of the exciting details, this is what you need to know: ClearChat, Inc is now HighSide, Inc.
To get the new HighSide app, all you have to do is boot up your existing install of ClearChat and after about 60 seconds you will be prompted to update.
(If you need to reinstall the app, or install for the first time, that's not a problem and you can easily do so from here.)
But why? What's a, "highside?" Are there new features? Was ClearChat acquired?
Ah, so you are interested in the details after all! I'm happy to explain and answer any of your questions, please read on.
Bonus announcement: We've also officially launched mobile apps for iOS and Android. Download them, they're great.
The Journey from ClearChat to HighSide
ClearChat, Inc. was founded in June 2015 with the goal of making complex cryptography, key management and communications security easy enough for even an organization's least technical team member to not only use correctly, but to enjoy.
TL:DR, ClearChat was designed to be a secure Slack and/or WhatsApp alternative for businesses.

From major data breaches making front-page news, to lessons learned from the likes of the Director of the CIA and Hillary Clinton, we've conclusively learned that technologies designed to try and shore up this problem, to put bandaids on inherently insecure protocols like Slack and Email, are so complicated and difficult to use that users either unintentionally misuse them or just avoid using them altogether [2].

"Clearly" There's A Better Way
Enter ClearChat: an app designed to be as easy and enjoyable to use as something like Slack, but even more secure than something very difficult for the average person to understand and use correctly like PGP.
ClearChat was based on nearly a decade of communications crypto-security research and development by the HighSide Engineering Team in partnership with our former CTO, Jonathan Warren, who had previously released an app in 2012 that was touted, "NSA proof" by Bloomberg News [3].

We took everything Jonathan had learned from his experience releasing an open source end-to-end encrypted communications protocol to the crypto community, and worked hard to make it even easier to use for non-technical audiences.
Our work culminated with the launch of a public ClearChat beta in April 2016.
Who's Using ClearChat?
Within weeks we had thousands of teams and companies signed up to participate in the beta.
Like any startup, our goal for launching the beta was to get the app in the hands of real-world users, to test our assumptions, learn where we needed to improve and also to discover exactly who was realizing the most value out of ClearChat so that we could better understand and hone in on our target markets.
As you might imagine, with a chat, file sharing and file storage app designed to deliver an unprecedented level of privacy and security, users started flooding in from a variety of different sectors:
There were the companies that had suffered data breaches through various email providers, Slack, etc. and found us through google, word of mouth and PR [4]. (A VC firm that had been hacked through Slack and came to us for help actually became the first institutional investor to offer us investment!)
There was a huge wave of organizations looking for a secure and modern way to transmit HIPAA-compliant data (since the healthcare and pharmaceutical industries are under heavy attack and have well defined federal regulations for how data should be transmitted/stored – which is why our doctor can't email you and still uses a fax machine!).
Law firms reeling from the realization that they were housing and sharing some of their customers' most sensitive and proprietary information largely over plain text emails. (Including a customer we're proud to continue sponsoring in support of their mission/cause: Lawyers Without Borders).
Finance and FinTech organizations (including banks, hedge funds, Bitcoin/Blockchain companies, etc.).
News and media outlets (ranging from production studios interested in keeping their latest scripts and pre-release footage secure, to new agencies protecting their journalists and stories).
The privacy and security conscious consumer.
And then, then there was Uncle Sam (along with defense contractors and allied nations).
Above Top Secret
Not surprisingly, shortly after launching our beta, the government started knocking on our door.
However, rather than requesting backdoors and asking us to turn over customer data, departments and agencies ranging from civil to military approached us saying, "Hey, this is exactly what we're looking for. We need this."
As a result, the last year of our company's development has largely been spent delivering our secure team collaboration and file storage platform into some of the most secure and high-stakes environments in the world.
And in that world, "top secret" or classified information is transferred "on the high side."
Yes, that's really how they say it. And after hearing the phrase, "on the high side" for the billionth time, our new name was born.
HighSide, Inc., extremely suggestive of the level of security and data we handle on behalf of our customers.
Uh-oh, Does This Mean Backdoors?
Absolutely not. Our values and goals as a company have never wavered.
On the contrary, it actually means even higher security standards for HighSide given the environments our application is being deployed into. A higher level of scrutiny, penetration testing, code review, all of it.
And in the interest of demonstrating our commitment to privacy and security, we've already open sourced HighSide's encryption protocol, explained exactly how HighSide works, and once commercially viable, we plan on open sourcing the entire codebase for peer review.
We've also always been very open and transparent about what information/data ClearChat/HighSide even could share with government agencies if subpoenaed.
Our mission hasn't changed: develop the world's most secure team chat, file sharing and file storage platform, and make it easy enough for an organization's least technical member to use.
HighSide is designed to massively reduce an organization's risk associated with cybercrime.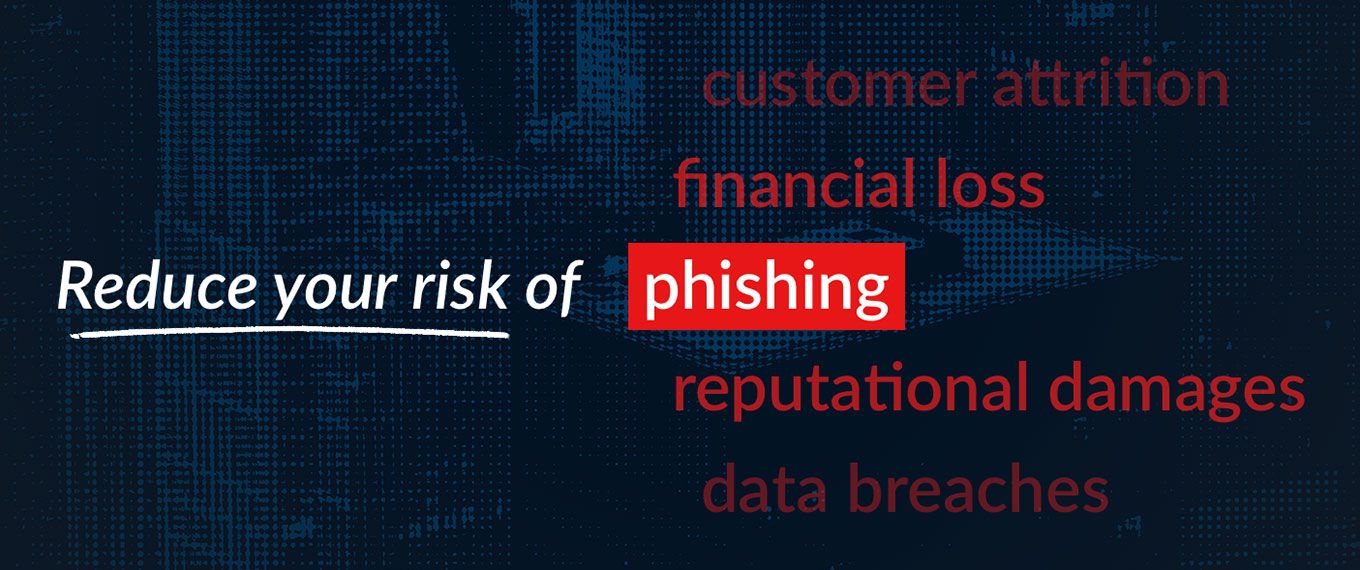 We deliver on this value proposition to companies and organizations around the world ranging from commercial to military.
The same tool being used to protect government data can be used to protect your organization as well.
(And for the record, it's important to note that to date no one has ever asked us to backdoor ClearChat/HighSide.)
What Makes HighSide so Different, so Secure?
We've taken deep dives on this topic on several occasions ranging from our blog to marketing materials, but to recap I'll provide a couple of quick-glance comparison charts as well as links to more in-depth information for those who are interested in learning more.
HighSide vs Email & Team Chat Apps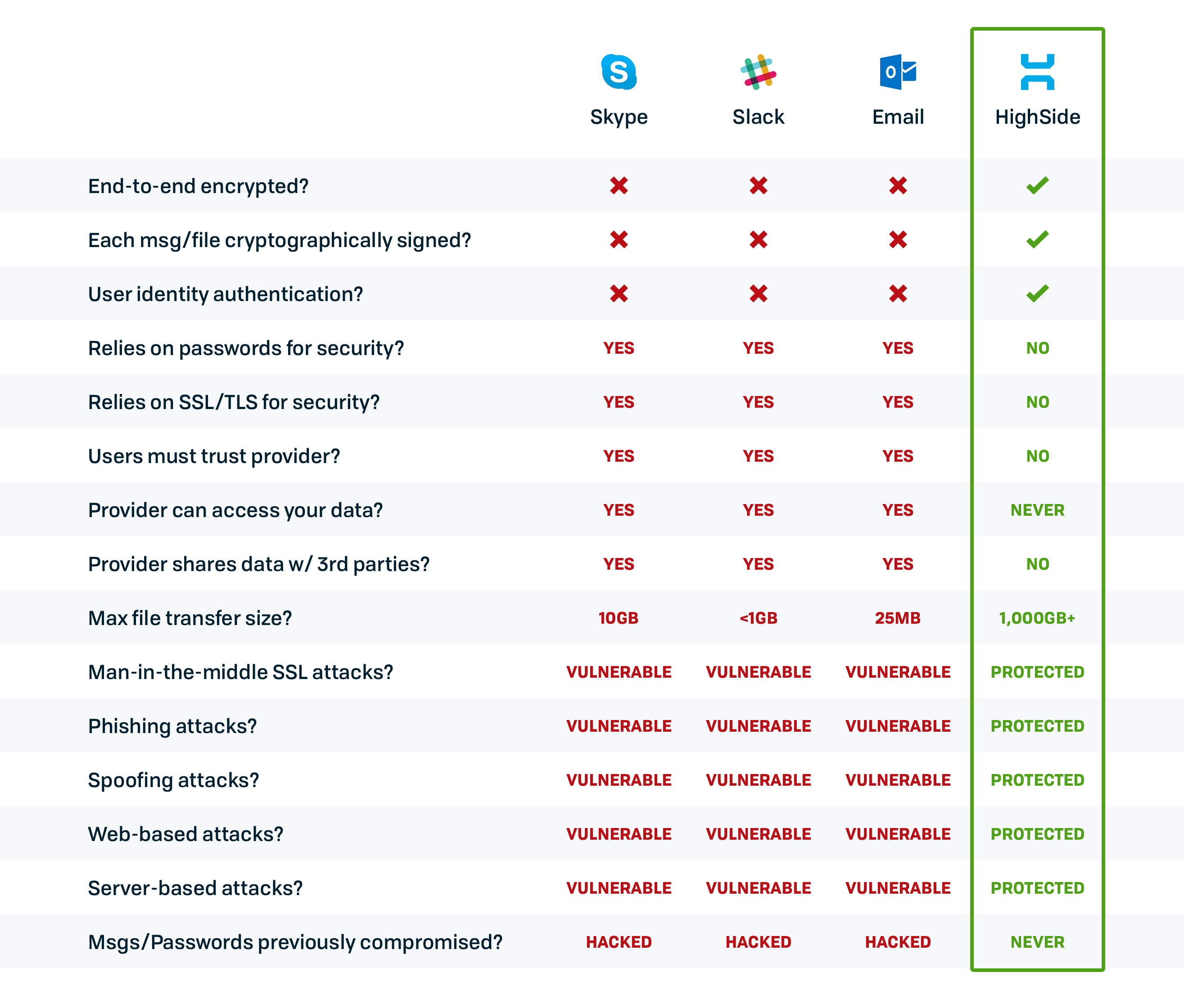 HighSide vs Encrypted Chat Apps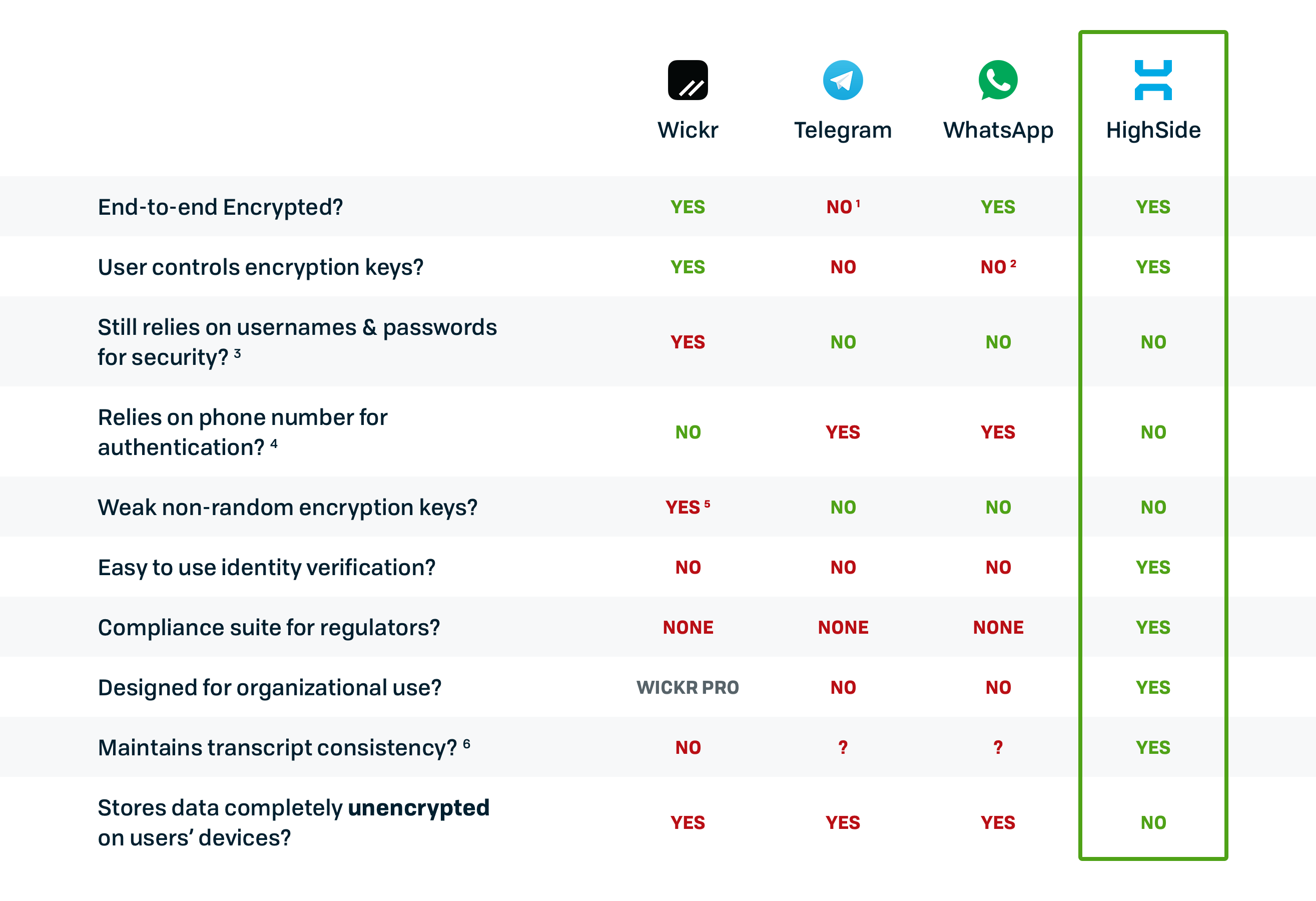 Deep(er) Dive Links
What's Next?
Our dev team is hard at work with a focus on improving our modern, easy to use and incredibly secure team collaboration platform purposely built for enterprise organizations.
For your convenience we maintain a regularly updated development roadmap, and will provide more announcements and updates on our blog so I highly recommend subscribing.
A Sincere Thank You
We're excited to continue this journey and we thank you, our users and our customers, for honestly making it all possible. You are what keeps this project growing and moving forward.
Starting as ClearChat and now continuing as HighSide, we'll continue carrying the torch working to protect your privacy and your data.
Questions? Concerns? Feedback?
Love the new name? Hate it? Questions about how something works or interested in signing up your organization?
We'd love to chat – drop us a line and let's discuss!
References